6 Pack of White Glo Professional Choice Whitening Toothpaste
Sale price

$14.30 USD

Regular price

$35.70

Unit price

per
Expiry Date: 1/1/2024 - Over 50% OFF
Rated most effective whitening toothpaste by Canstar Blue and receiving a seal of approval by the Australian Dental Association, this formulation was originally developed for actors and models. With regular use, this will help restore your teeths glamourous shine giving you a radiant smile.

The premium fluoride enriched toothpaste offers maximum oral care hygiene. Its special Extra Strength formulation lightens discolouration and yellowing on tooth enamel which is often caused by food and drinks with strong colouring.
6x Professional Choice Whitening Toothpaste - 150g
6x Whitening Toothbrush with Stain Lifter
48x Dental Flosser Toothpicks
Calcium Carbonate, Aqua (Water), Glycerin, Sorbitol, Silica, Aroma (Flavour), Sodium Lauryl Sulphate, Carboxymethyl, Hydroxyethylcellulose, Chondrus Crispus (Carrageenan), Sodium Saccharin, Rosa Canina Fruit Oil, Sodium Monofluorophosphate.
Lubricate your brush with small amount of water and squeeze pea sized amount on toothbrush
Insert toothbrush in mouth at a 45 degree angle to your gums and use a gentle circular motion to brush front teeth
Brush outside surfaces of teeth, making sure to get the back molars and upper areas of chewing surfaces
Flip the toothbrush upside down to get the inside of top front teeth and repeat for bottom front teeth
Brush your tongue
Rinse mouth to reveal your most confident smile
We offer a 30 day money back guarantee because if you're not satisfied, neither are we! To initiate a return, please contact customer.service@whiteglo.com with your order number and we'll provide you with the address to return the product to and next steps.
Welcome to the White Glo Family! Stay connected with us on Facebook and Instagram for funny, informative content that will undoubtedly help you unleash your most confident smile to the world.
How often should I use it?
White Glo Toothpastes designed for daily use. Dentists recommend brushing twice daily to provide protection from oral bacteria, cavities, decay and plaque.

When will I start seeing results?
Whitening Toothpastes results will be more gradual than our whitening treatments however we are confident that you will achieve a whiter smile from around 4 weeks of regular use.

Is this toothpaste harsh and abrasive on teeth enamel?
The White Glo toothpaste is a low abrasion formula, using a more premium ingredient "calcium carbonate" ingredient base as opposed to the harsher "hydrated silica" used in many mass produced toothpastes. Calcium carbonate is softer on Mohs scientific hardness scale than hydrate silica.

Will this cause sensitive teeth?
This whitening formula is designed for everyday use and should not cause any sensitivity. However please do contact us should you experience any issues.

Can it be used on veneers, dentures, braces etc?
White Glo Toothpastes are safe to use on dental work such as braces, veneers, dentures however it is unlikely these will respond to any whitening.


Share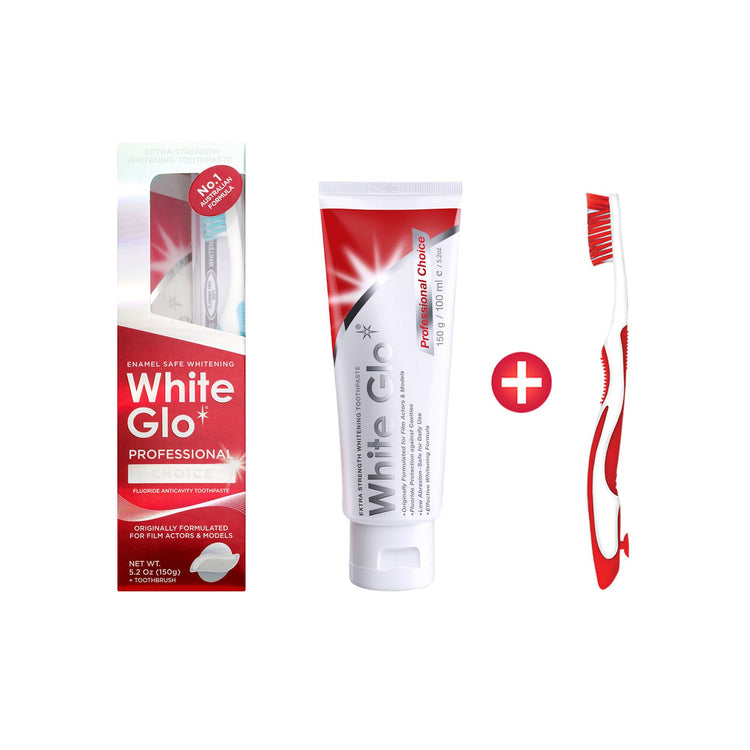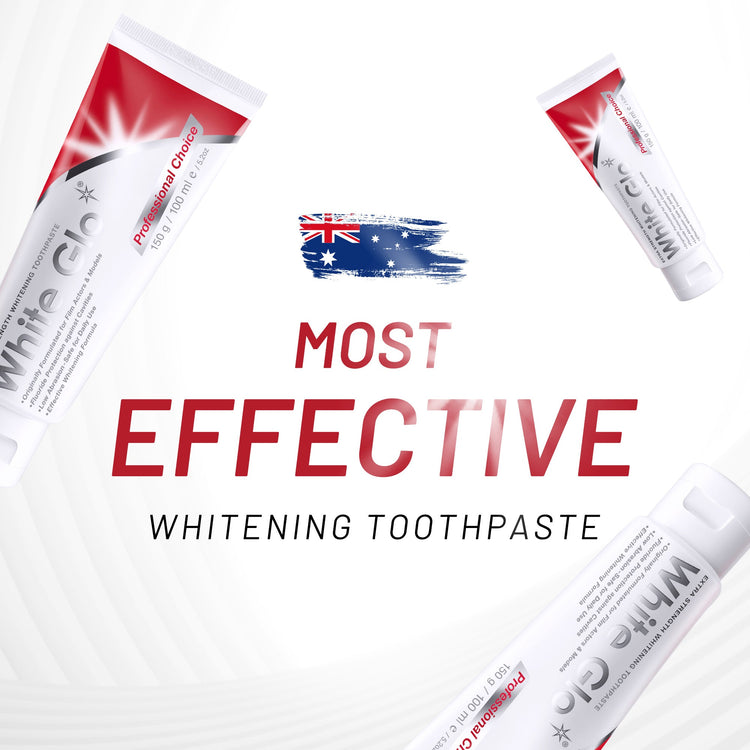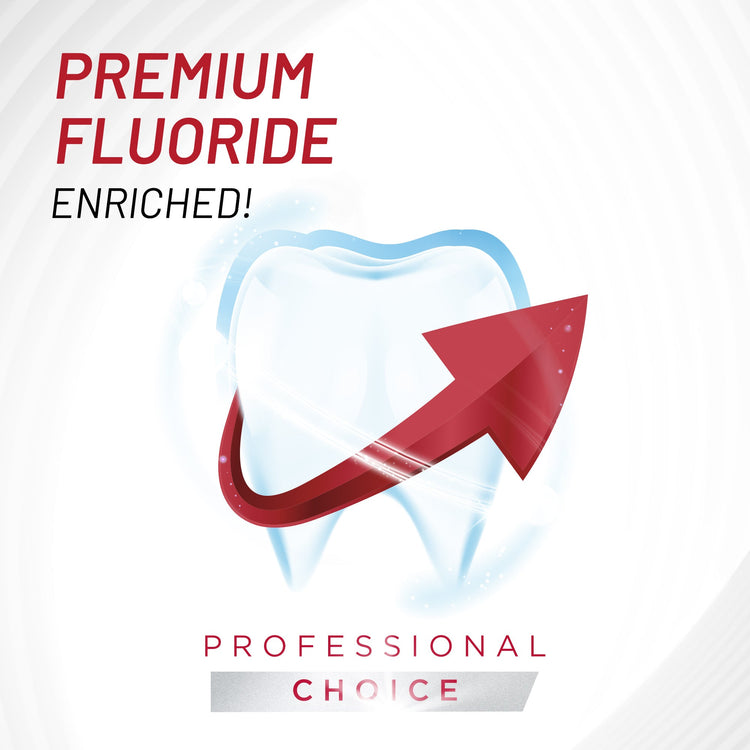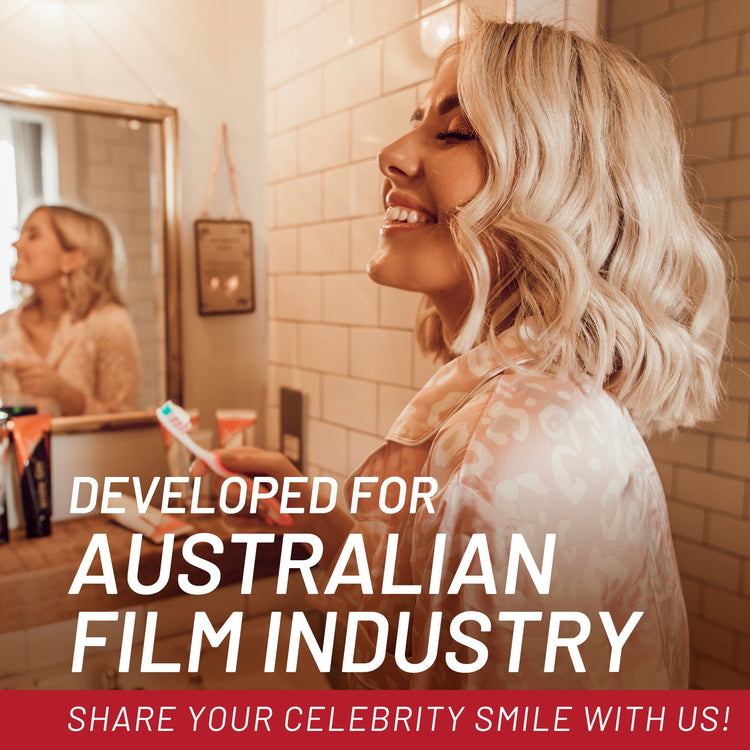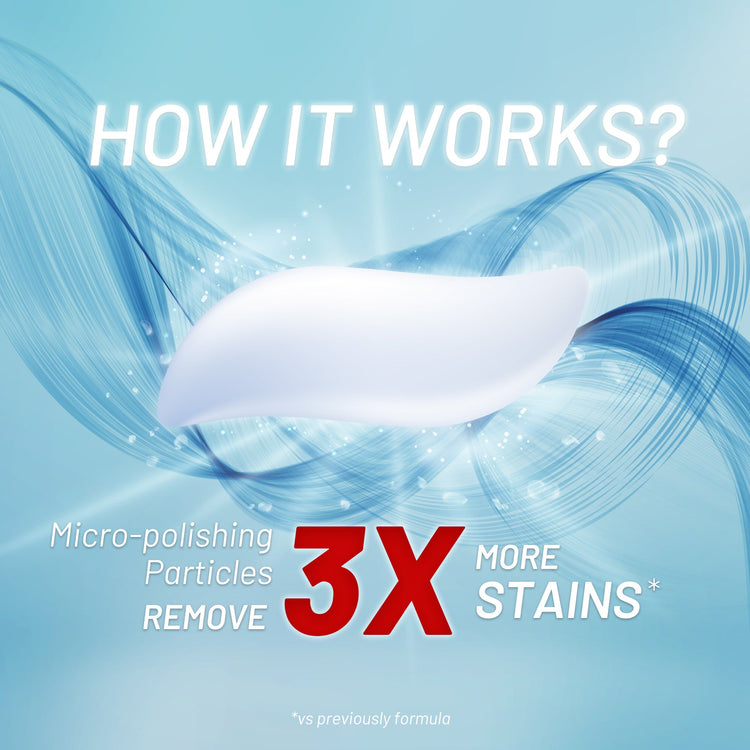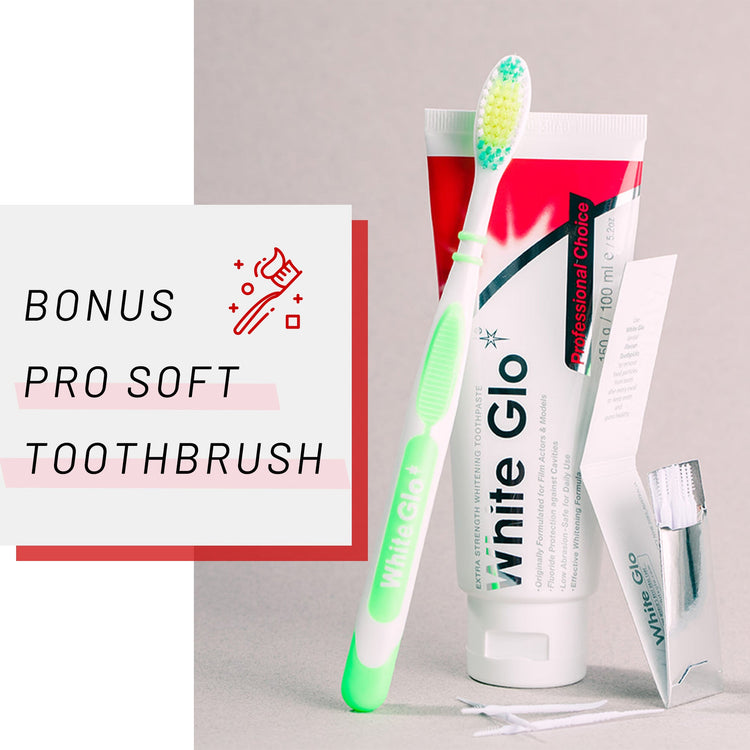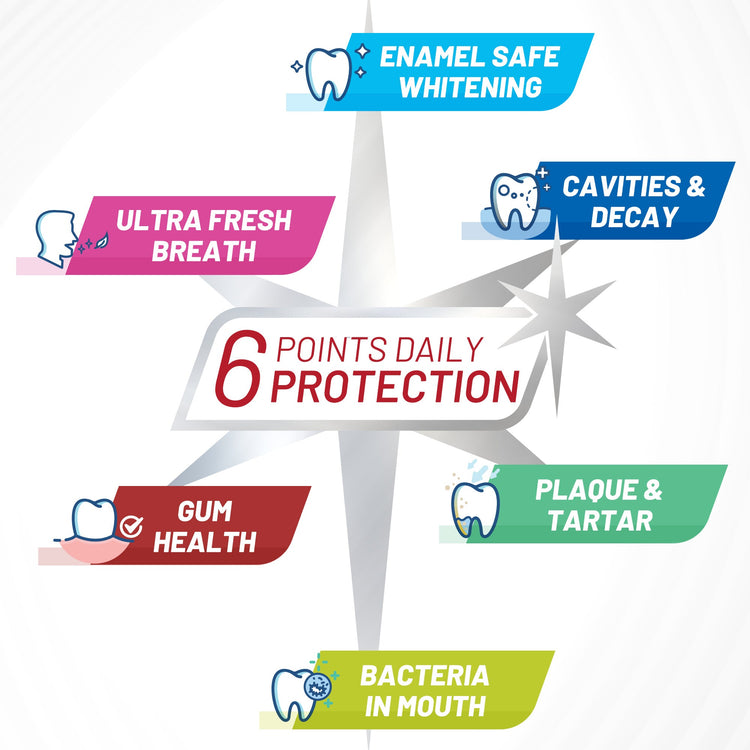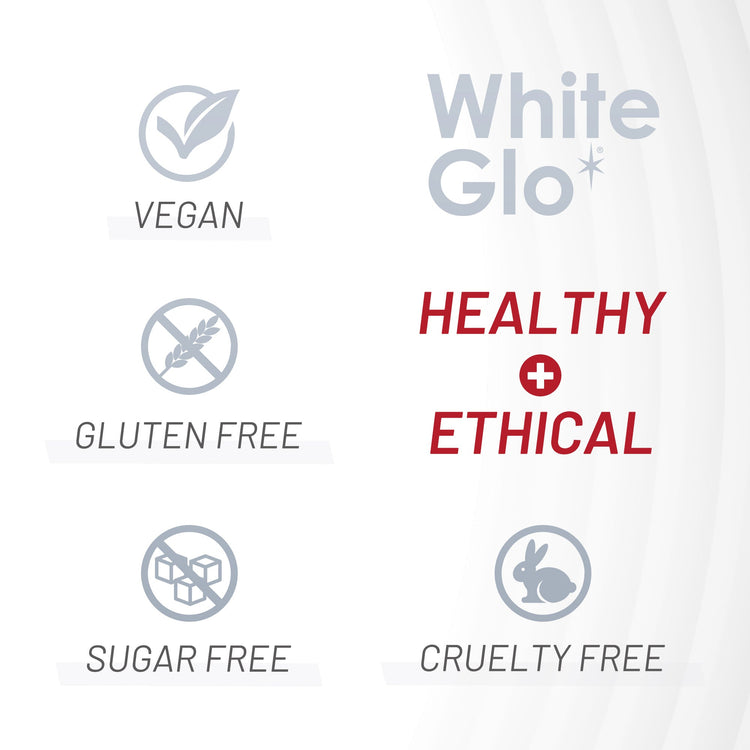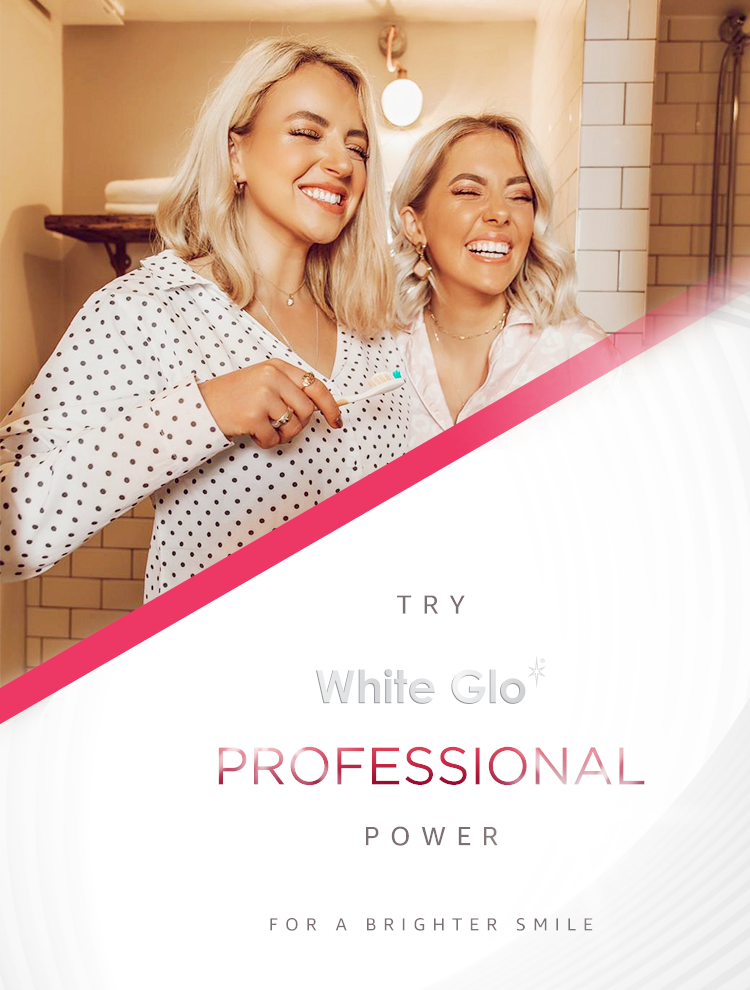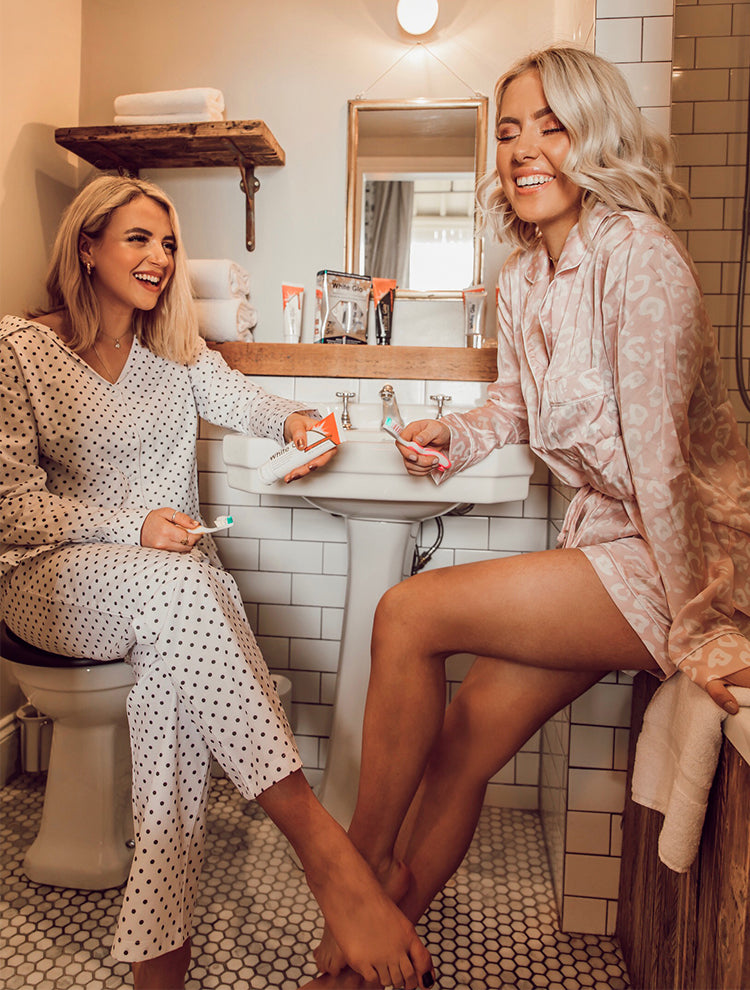 WHY 6 Pack of White Glo Professional Choice Whitening Toothpaste?
Premium fluroide combined with built-in micro particles in Professional Choice Whitening Toothpaste safely and effectively lightens discolouration and yellowing on tooth enamel which is often caused by foods and drinks with strong colouring, bringing your teeth to their original colour.
White Glo is proud to have our Professional Choice Whitening Toothpaste certified by the ADA, a team of expert dentists that ensure our products work exactly as intended and meets the regulations set out by ISO 11609. This includes 9 standards and 10 stringent tests including total fluoride, abrasivity, stability and remineralisation rates taking over 2 years to complete. In addition to thorough testing, our products are consistently retested to ensure we are maintaining the high quality set out by the ADA. You can rest assured your smile is being well looked after.
Low abrasion formula makes Professional Choice Whitening Toothpaste suitable for everyday use. It is also safe to use with an electric toothbrush.
Simply apply a pea sized amount of White Glo Professional Choice Toothpaste and gently brush for 2 minutes before rinsing to reveal a brighter, whiter and more confident smile. For optimal results, use in conjunction with our mouthwashes to reach plaque that brushing just doesn't reach!
Our special Anti-Stain Toothbrush has been specially developed to work in conjunction with our toothpaste and increase effectiveness. The extra condensed bristles on Anti-Stain Toothbrush compliment the micro-particles to give you the brighest, freshest smile possible. Changing your toothbrush regularly also ensures greater oral hygeine.
Canstar Blue is a consumer review and comparison website that has been helping Aussies make better informed purchase decisions since 2010, with White Glo shining brightest in toothpaste ratings, receiving first in customer satisfaction ratings in 2019. An independent study was conducted with over 3,000 participants finding that White Glo rated five stars across feel of teeth after using, effectiveness, value for money, texture, taste, packaging and overall satisfaction outdoing major international brands.
White Glo Whitening System Formulas were designed right here in Australia by leading teeth whitening dentist, Georgios V. Sotiropoulos. Get ready to remove years worth of coffee, tea, food, wine and general ageing stains.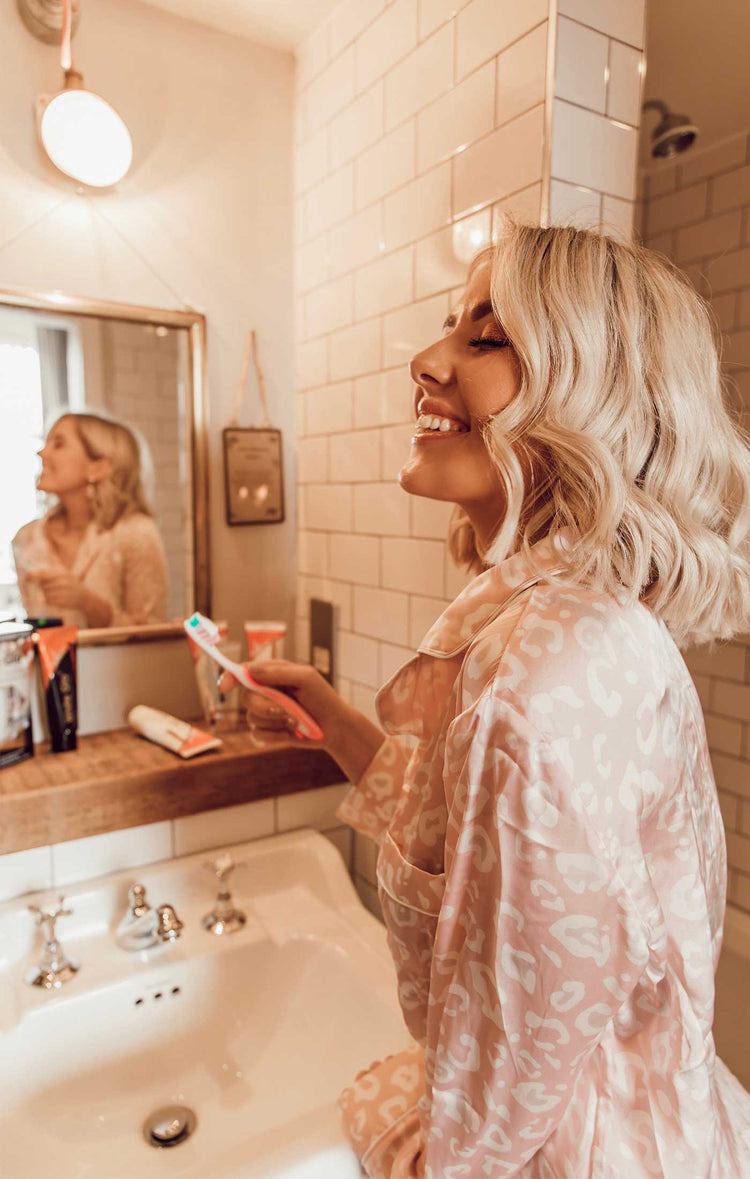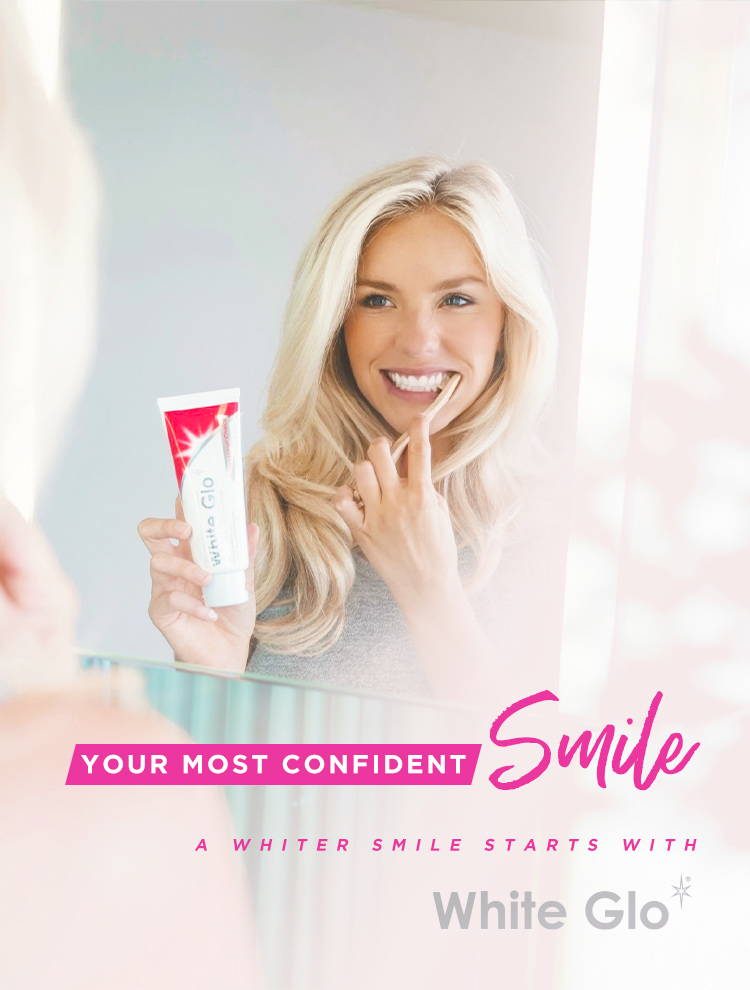 JOIN THE MILLIONS WITH MORE CONFIDENT SMILES TODAY